. . . . .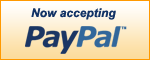 Pay for LOCAL or REMOTE Computer Services with PayPal or Credit Card:
NO MATTER WHERE YOU BOUGHT IT, OR WHERE YOU ARE, WE CAN HELP YOU!


SERVICES:
We are an authorized service center for Dell, Sony, HP and many other companies. We can do the work in our shop, at your home, or remotely over the Internet (high speed connection required) - YOUR CHOICE. Here are some of the computer services we offer: Virus/Spyware Removal, Memory Upgrades, Software Installations and Set Up, Vista Updates and Upgrades, In-Home Wireless Network Upgrade, Assist-TO-Buy, and many more services. Call us for more information. We have competitive rates and professional, courteous service.

We will be happy to order any accessory for you and have it delivered to THE PHISH NET. Gives us a call prior to your visit and let us know what you are looking for. When you are available to come in we will be ready to provide you with a price quotation on the particular accessory you are on the market for. Delivery time runs from 2-7 business days on most of them. Come in and let us know how we can help. You'll receive personalized service and affordable prices without spending gas and having to drive out of town to find what you're looking for.

If there is something you want and don't see in the above list, please contact us for more details on your specific computer or service need. Hope to see you soon!


We have many PC, Wireless, and Networking accessories in our store. Or, if we don't have it available, we can order what you are looking for.

From Flash Drives to Laptop Briefcases to a brand new Computer or Laptop... we have it or can get it for you and very affordable prices with local technical support!

COME IN AND TALK TO US ABOUT YOUR PARTICULAR NEED.

Need more info? Contact Us.
| | | |
| --- | --- | --- |
| Internet Access Rates (min. 1/2 hour) | | |
WE HAVE AN INTERNET ACCESS PROGRAM FOR YOU!
Wireless Access, Seasonal Access, or Hour Bundles. ALL designed to save you money!
Click HERE for more information.
Has it been a while since you updated your virus protection software?

Are you behind on system and software updates due to slow dial-up access from home?

Are you unable to update your personal Web Page over
dial-up due to low band width?

Tired of waiting hours to send your digital pictures to your
loved ones and friends?
Then come in and bring your laptop to do all of the above or use our computers, if you'd like, to browse the internet, do some shopping, check your e-mail, send and receive large files such as pictures, reports, spreadsheets, etc. using our high speed access - all while sipping one of our Espresso, Cappuccino, Latte, Chai, or Hot Cocoa and nibbling on a fresh baked goodie...

Come visit us, relax, and enjoy the journey...

Interested in Computer Classes? See PC Education for more information on Classes, Tutorials, One-On-One Sessions, and more.

Assist-to-Buy Program - Need help deciding which computer or component to buy? click for more info...